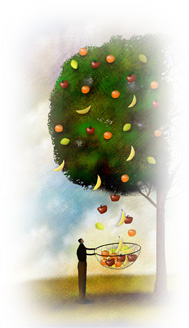 At the Law Offices of Stephen D. Spang, P.C. we concentrate in estate planning, business planning and trust and estate administration —three practice areas that are very interrelated. An estate planner is much more effective in the estate planning process when able to draw upon the actual experience of administering trusts and estates. Clients who own and operate a closely-held business have unique estate planning needs. An effective estate planner must have knowledge and experience in business planning and business succession in order to prepare a comprehensive estate plan on behalf of a business owner. Unlike many law firms that offer a broad array of legal services with their attorneys acting as general practitioners, our attorneys limit their focus to the areas of estate planning, business planning and the administration of trusts and estates.
Our fundamental goal is to help clients protect their families and their assets. Through the estate planning process, we help clients organize their affairs and prepare for the future. With our guidance, clients are able to select appropriate family members, friends and trusted advisors to serve in various capacities under their estate plan documents. Clients learn about the value and functions of various kinds of trusts, including estate tax reduction, asset protection for their loved ones, and the preservation of family privacy. When a death occurs, surviving family members who are dealing with a profound sense of loss are often overwhelmed by the financial and legal affairs of their deceased family member. We guide families through each step of the administrative process, addressing both probate and non-probate issues.
For many clients the family business is the economic center for their family members and loyal employees. Without proper planning, the lives of those who depend upon the family business can be severely impacted. For our clients who own a family business, we have the ability to counsel them through the formation, operation and eventual succession of the family business as an integral part of their overall estate plan.
Our ultimate goal is to develop long-term relationships with our clients, earning the right to guide them throughout their lives and to help them adapt their estate plans to meet the challenges and opportunities that life presents.